Grandezza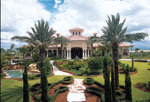 View all properties for sale in this community
Grandezza​, located in beautiful Estero​ Florida,​​ offers residents a relaxing and carefree lifestyle​. The​​ spacious homes​, condominiums and villas​ are built on 550 acres surrounded by beautiful lakes, preserves and an 18 hole Darwin Sharpe III designed par 72 golf course.
​The homes in this community focus on superior architectural detail, luxurious appointments​,​ amenities and the serene setting ​to ​ensure your pleasure in calling Grandezza home. The 53,000 sq ft Clubhouse of Renaissance style architecture is at the heart of the social agenda. The 18-hole championship course is as scenic as it is challenging and additional golf amenities include an aqua driving range, well stocked pro shop and player lounges. ​Grandezza residents enjoy tennis, dining, a fitness center, community swimming pools, social events and clubs and the essence and comfort of a gated community​.
​
Grandezza is well situated​ in a perfect location​, amid the many SW Florida amenities including Florida Gulf Coast University, restaurants, shopping, entertainment venues​ and offers convenient access to interstate highways and Southwest Florida International Airport​. ​ ​Call 239-898-9933 for additional information.
Featured Listings